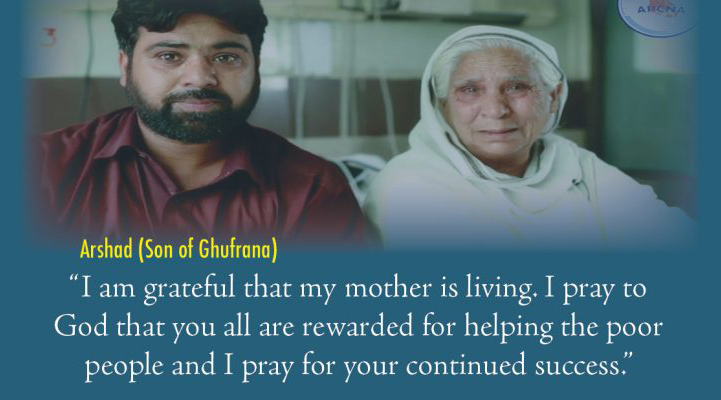 The First Pacemaker Bank in Pakistan
Pacemakers as Peacemakers:
A Project of APCNA, Rotary Club of Pakistan and Heartbeat International.
Background:
The health care for impoverished people in Pakistan is minimal as simple and primary health care needs are scarcely met in the public sector. Respect for cardiac patients is even more complex and not affordable for the indigent. Hundreds of patients need permanent pacemakers but cannot get them and will die because they cannot afford them. It was noted that even the big pubic cardiac institution had only 10 working temporary pacemakers for the entire patient population they served. Patients had to wait for weeks to have permanent pacemakers implanted. It is commendable that many cardiologists are trying to provide these patients with free services and obtain pacemakers from various philanthropic resources. There was a dire need to give these patients professional and financial assistance to make pacemakers available. Imagine a deserving patient in Pakistan who can now get a Permanent Pacemaker and Implantable Cardioverter Defibrillator at no cost to the patient! This will soon be a reality.
APCNA's Collaborative Efforts:
When APCNA members learned about such a need in Pakistan, there was a palpable passion among the members to make a difference in these patient's lives. In March 2005, at the ACC Annual Scientific Sessions in Atlanta, the APCNA team headed by Dr. Wajid Baig met Mr. Wil Mick, the President of Heartbeat International, a non-profit organization based in Tampa, Florida, the world's premier provider of free, cardiac pacemakers, implantable defibrillators and medical care to needy patients around the world. For over 20 years, they have served the indigent and ill in more than 30 countries, reaching families and hearts worldwide. Unfortunately, there was no such pacemaker bank in Pakistan. It was APCNA's initiative to approach Heartbeat International to establish the pacemaker bank in Pakistan. It was apparent that the task was monumental. According to Heartbeat International, the Pacemaker Banks must adhere to strict operating principles and comprise qualified and experienced physicians, an appropriately equipped and staffed hospital, and a local Rotary club or approved Social Agency. APCNA needed partners to facilitate this task to become a reality. Fortunately, we had a good team of dedicated doctors, Dr. Bashir Hanif, Azam Shafqat, and Dr. Zahid Jamal in Pakistan, who were enthusiastic about providing such professional services. The Rotary Club of Pakistan provided us with the needed support, and the local institutions, Tabba Heart Institute and National Institute of Cardiovascular Diseases (NICVD), opened their doors wholeheartedly for this worthy cause. The things then fell into place, and, as they say … the rest is history.
The First Pacemaker Bank in Pakistan:
Although the journey towards this goal had been long and arduous, it is now reaching its great end. This journey of setting up the First Pacemaker Bank in Pakistan may be ending, but the challenging task of running this project is just starting. Our partners in this project are The Rotarians. We are confident that they are more than capable of running the Pacemaker Bank proficiently. We hope that waiting for a permanent pacemaker will be one less problem for doctors and patients.
The way we envision the Pacemaker Bank to operate is as follows. If a deserving patient anywhere in the city needs a Pacemaker and cannot afford it, one of the medical directors shall first document the appropriate medical indication for the permanent pacemaker. Then there will be a screening process by trained social workers who will process the request. If they verify that the patient falls within the category of "deserving," then one of the three implanting Cardiologists (Drs. Bashir Hanif, Zahid Jamal, and Azam Shafqat) will be asked to schedule the implant. Initially, we designated Tabba Heart Institute and the National Institute of Cardiovascular Diseases (NICVD) as the two implant sites. The record-keeping will be stringent, following the guidelines set forth by Heartbeat International.
We hope that the First Pacemaker Bank will become the model which will then be used to set up similar Pacemaker Banks in different parts of the Country. There are no restrictions on where these Banks can be set up, provided that there are dedicated Rotarians and Physicians willing to follow the strict guidelines as dictated by Heartbeat International.
The Special Note of Thanks:
On behalf of APC and its members, we are incredibly grateful to Mr. Wil Mick and Dr. Meniscalco from Heartbeat International, who guided us through this process. We now have the help of Mr. Ashraf Hasnain, International Director of Heartbeat International. He has had several meetings with the organizers in Karachi and continues to help us. None of this could have happened without the hard work and dedication of Rotarian Ovais Kohari and his team.
None of us are naïve enough to think that this one project will change everything for the patients in Pakistan. This is only a minimal attempt to help these patients. It will take many more such projects to make a significant difference. We are proud that APCNA is making a start.
The Inauguration and Fundraising for the Pacemaker Bank are scheduled for Wednesday, December 18th. 2007 at the Tabba Heart Institute, Karachi, Pakistan. We invite all of you to attend and support this project. Please visit our website and learn more about APCNA (APCNA), its projects, and how you can help us.
Project Chairman:
Wajid Baig MD FACC
Members: APCNA-Rotary Pacemaker Bank Project
Javed Suleman, MD, FACC,
Immad Sadiq, MD, FACC,
Asif Rehman, MD, FACC,
Dr. Wamique Yusuf, MD FACC
APCNA is a non-profit, professional, educational organization incorporated in the United States.
To foster scientific development and education in fields related to the circulatory system for the purpose of improving the quality of medicine and delivery of better health care, without regard to race, color, creed, gender or age.